Home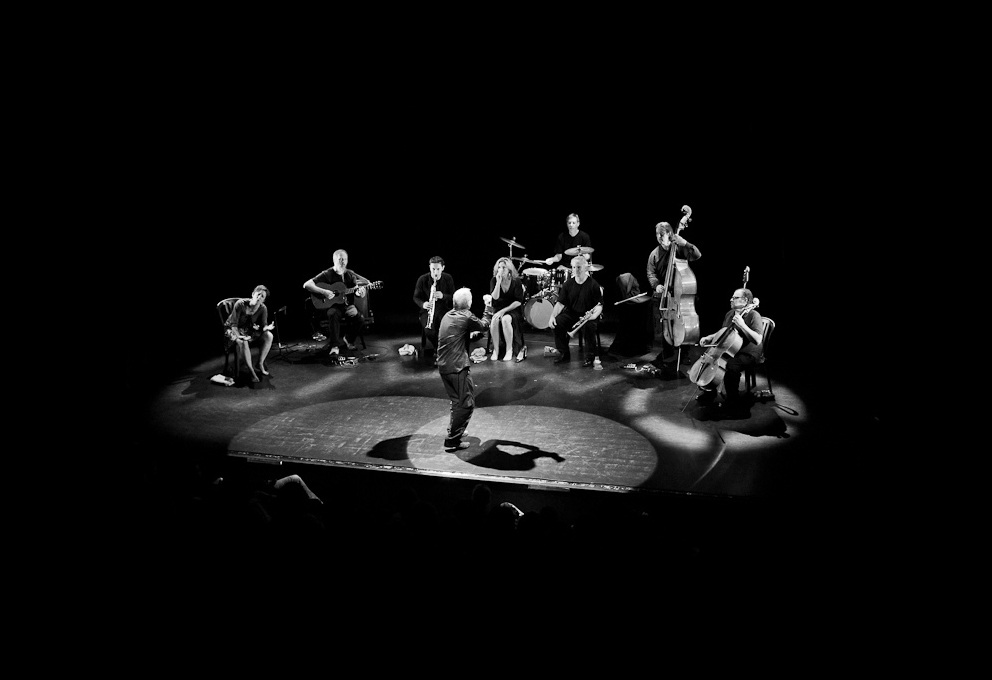 The WTO at Le Petit Fauchaux
(photo Guillaume Le Baube)
The Walter Thompson Orchestra (WTO) was created in 1984 as a vehicle for Thompson's notated compositions and improvisation-based works. In the early days Thompson would combine Soundpainting with his compositions and improvisation-based works in order to steer the piece and less to compose it in real time. Over the years Thompson developed it into a fully codified live composing sign language. To date, the multidisciplinary Soundpainting language comprises more than 1500 signs. Thompson primarily uses Soundpainting as the tool for realizing his compositions with the WTO. For more information on Soundpainting please visit www.soundpainting.com.
Multidisciplinary and interdisciplinary in nature, the WTO brings together world-class musicians, dancers, actors, poets and visual artists and stretches the boundaries of each discipline through the use of Soundpainting. The Orchestra has performed at club and concert venues in the US and Europe including Lincoln Center, The Kitchen, Petit Fauchaux, HERE Arts Center, Brooklyn Museum, Eastman School of Music, Jacob's Pillow and National Public Radio's "Fresh Air".
Education:
Walter Thompson and members of the WTO teach Soundpainting nationally and internationally. Soundpainting has been taught in public and private schools (grades K-12) throughout the US and Europe, and has reached special needs populations including disabled citizens and at-risk youth. Thompson trains teachers in Soundpainting at music conservatories and education conferences around the world.
Our mission:
To develop multidisciplinary works using Soundpainting: To foster individual creativity in professionals and students of all ages, abilities, and disciplines: To increase the greater community's participation in and awareness of the performing and visual arts through Soundpainting.